I create expressions of the more undesirable truths,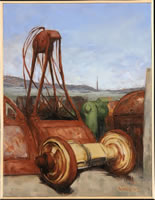 the bus station vagrants and the abandoned swamp cranes of the world.
It is not just the sentiment of these subjects that polarize me, but the aesthetics that have a profound appeal. It is the full spectrums of color and tones that appear on oxidized iron or a myriad of wildflowers that have engulfed a deserted train yard.
I am exploring themes of mortality using juxtapositions of growth and decay such as the reclamation of nature from manís abandoned constructs. I am attempting to render the resolution of the inhabitants of these forgotten swaths of land.
I use a classical technique with a contemporary approach. Tones and values intended to display the flow of light that transpires upon the subject. I prefer a less polished finish to my work. I strive to create a very representational effect but still be able to notice all the brushstrokes visible. I want it to be very evident that it was done by hand and contains a level of spontaneity. I feel a much larger portion of people can relate to a realistic rendering of a subject. It is this connection that is most rewarding about creating pieces of artwork.
I received my artistic training at the Florence Academy of Art. Learning time honored techniques of sight size measurements and a chiaroscuro approach to tonal values. Emphasis was put on the construct of the drawling. Studying directly from nature. I have always had a passion for art since I was a small boy. My first formal training was at San Francisco's School of Fine Art.